labcontrol - an interface to control z-Tree and z-Leaf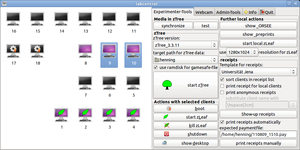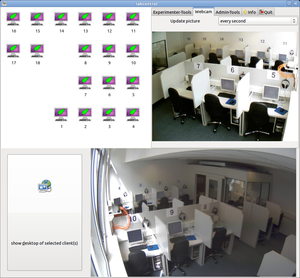 Here is a (hopefully helpful) interface for z-Tree laboratory experiments. labcontrol was intended to be an easy tool of controlling our laboratory at university and it is still in development. Most options are configurable with Gconf.
What labcontrol provides:
a simple GTK-GUI, which shows the state of all clients and all possible actions
get the current state automatically and update the GUI
start and halt clients via wake-on-LAN and SSH
detect all installed versions of zTree
starting zTree in the detected versions with directory-options
start and kill a suitable version of zleaf.exe via SSH on the clients or local zleafs for testing purposes
printing receipts immediately after zTree has written the paymentfile and creating receipts from a user-defined paymentfile
synchronize media content required by zLeaf's Multimedia-Box via rsync
watch the desktop of the clients via VNC
show a picture of the laboratory's webcam and update it periodically
If you find the software useful, you are free to use it under the
GPL
.
---
Here are also
some general remarks
on how to use
z-Tree
with GNU Linux.
---
For those who use
R
, here is a
utility to import data from z-Tree into R
(current version as of 2012-03-19, fixed issue with latin1-locale and chat-tables). It provides two commands,
zTreeTables
and
zTreeSbj
:
zTreeTables (filelist,tables=c("globals","subjects"))
The return value is then a list of all merged tables.
Example:
source("http://www.kirchkamp.de/lab/zTree.R")
zTT <- zTreeTables(c("080712_1412.xls","080712_1818.xls"))
with(zTT$subjects, table(Treatment,Period))

zTreeSbj takes a vector of .sbj-files and returns a matrix
files <- list.files(pattern = "*.sbj$",recursive=TRUE)
fname <- sub(".*/","",files)
sbj <- zTreeSbj(aggregate(files,list(fname),function(x) x[1])$x)

For those who (still) use Stata, Kan Takeuchi has written a utility to import data from z-Tree into Stata.
Read more about z-Tree at the z-Tree-Wiki.